A story written by Kaila & Laine Strickland.
"After months of trying to conceive, we thought we were finally pregnant. Following rounds of bloodwork that caused reason for concern, it was eventually determined that we were having an ectopic pregnancy. The devastation was insurmountable; a sadness that neither of us had experienced in our lives.
With this news brought another tough reality – a strong recommendation from our doctor that we move onto IVF for our best chances at conceiving safely. We had been trying to get pregnant through a procedure called IUI. With each attempt, between sperm vials, medication, and the procedure itself, we were spending somewhere around $2,200. And as large of a lump sum of money as this is, it does not compare to the cost of IVF without coverage; something neither of our insurance plans offer. Although the financial responsibility is jarring, we know that with the risk another IUI attempt poses and our eagerness to conceive, this is the right choice for us.
So, we are moving forward with IVF as the next chapter in our fertility story. We discovered early on in our journey that fertility aid is not for the faint of heart. It is emotionally and physically exhausting, as well as mentally taxing. If we have learned one thing for certain, it is undoubtedly this: hope is the catalyst that keeps us marching forward.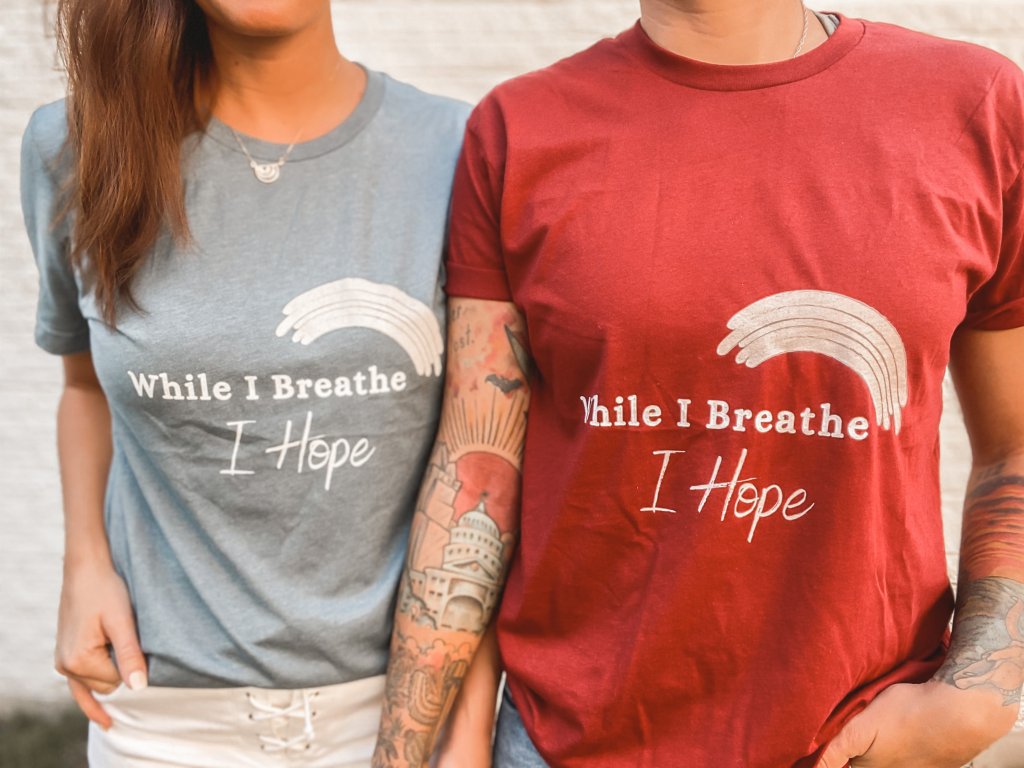 With hope and fear in our hearts, we decided to launch a t-shirt campaign to help us fund our IVF journey. When we created these shirts, we did so with humanity in mind knowing that the quote it displays has the potential to resonate with so many. We have come to know that losing our hope in this experience means losing everything, and we feel sure that so many of you can relate to such a sentiment. Accompanying the quote is a rainbow which serves to symbolize that unwavering hope, as well as the promise that good always follows even the heaviest of storms. We know that we will be parents one day and the timing will be perfect simply because it is ours. We would be overwhelmingly grateful for you to purchase a shirt to help us raise money for our IVF fund! And if you want to give a little extra beyond just the purchase, you can do so at checkout by adding a tip; a feature that is 100% optional. Although we were apprehensive, we made the decision together to lean into our vulnerability and share our story. We are firm believers that with storytelling comes connection, in connection there is community, and in community there is immense strength.
We will be actively looking for ways that we can pay it forward in the coming years and are ecstatic at the thought of sharing that avenue with all of you someday. It will be hard to find words to adequately express our gratitude, but please know this: we will spend eternity being full of thanks for your love and support. Our hearts will be forever changed."
At the time of writing this story, Kaila & Laine campaign had sold over 270 shirts.