The American Therapeutic Riding Center, located in Sand Springs, Oklahoma, is a place where individuals with physical and cognitive disabilities are empowered to achieve goals, overcome challenges, and create life-changing relationships through therapeutic horseback riding.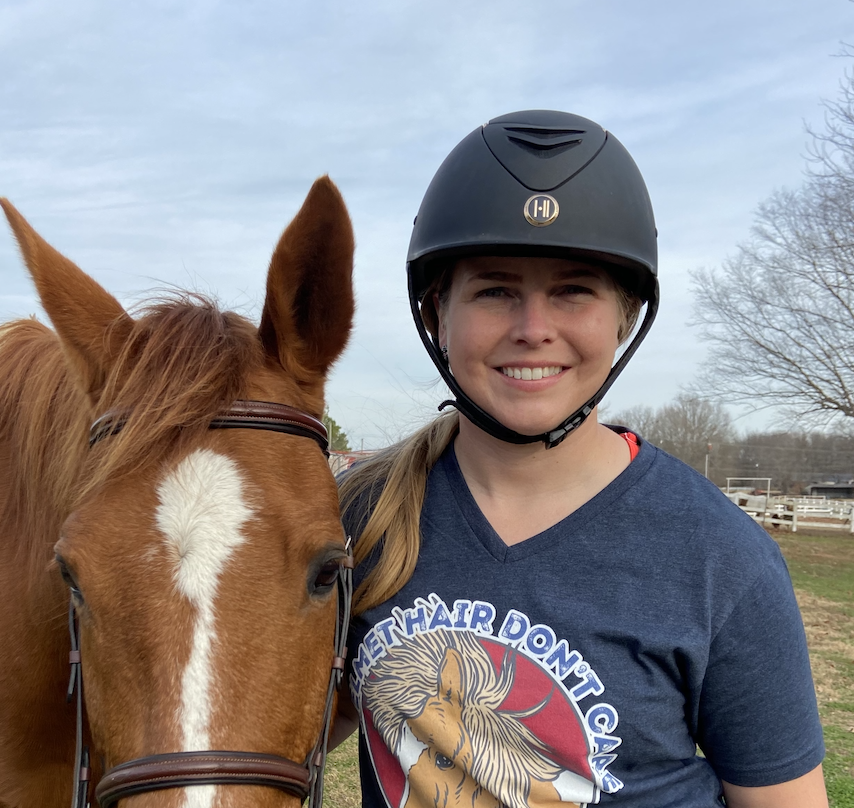 Brooke Vincent Shipman (she/her) is a Certified Therapeutic Riding Instructor at American Therapeutic Riding Center.
Here is ATRC's story, told by Brooke, in her own words.
"Kenneth (he/him) and Vicki Burkett (she/her) founded American Therapeutic Riding Center (ATRC) in 2007. They dreamed of a place where individuals of all ages could experience quality of life changes through the use of horses. After going through some renovations for the property to meet P.A.T.H. (Professional Association of Therapeutic Horsemanship) International standards, ATRC was able to open to the public in August of 2007 as a 501(c) 3 nonprofit organization and a PATH International Center Member.
American Therapeutic Riding Center was founded in order to provide opportunities for people with varying ability levels and physical disabilities to challenge themselves physically and emotionally by setting goals to improve quality of life through equine facilitated therapy.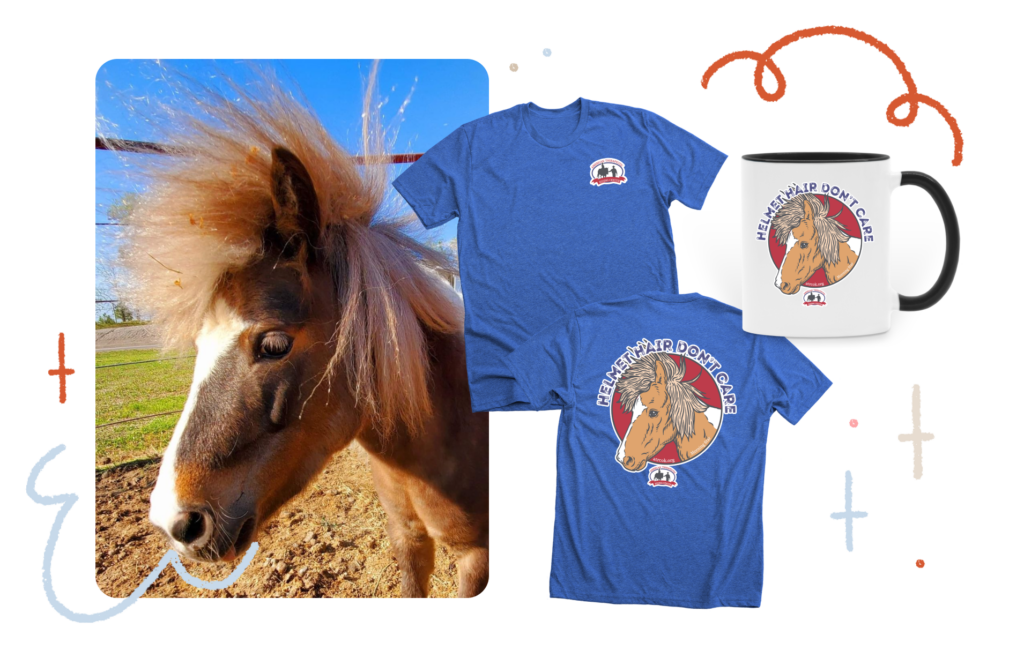 We think we have the best therapy tools available, horses! We have really enjoyed featuring some of our horses on our shirts. The shirts celebrate the spirit of our therapy horses as well as the accomplishments of our riders!  Our "Helmet Hair Don't Care" shirt represents both, one of our horses, and our riders.
For some of our riders, wearing a helmet is one of the first challenges they overcome. This shirt was made to celebrate that accomplishment! It also represents the crazy hairdos we have at the end of a ride!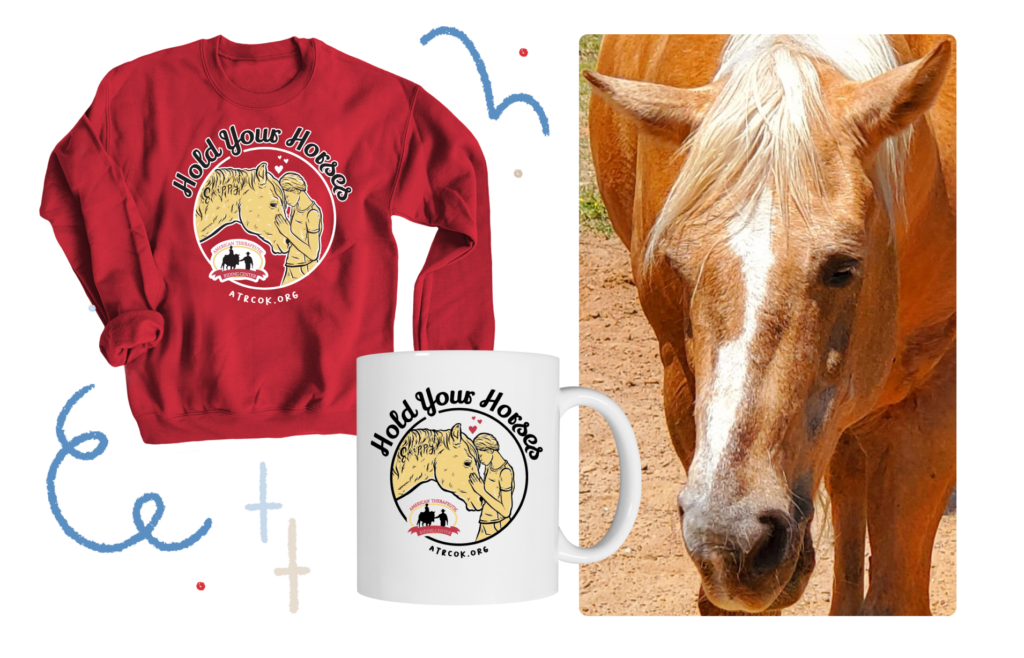 Additionally, we lost one of our beloved horses this year, Skippy. Our "Hold Your Horses" shirt is a tribute to him.
We love our therapy horses and could not do what we do without them! However, they require food, water, shelter, and medical care, just like us. These costs add up quickly! Proceeds from shirt sales will be utilized to help cover the costs associated with equine care. This includes, but is not limited to, feed, farrier, tack, worming, vet care, yearly exams, enrichment supplies/activities, and general care. Maintenance and preventative care of our horses ensure that they live long, healthy, happy lives. It also guarantees that our riders get to continue finding freedom through horseback riding.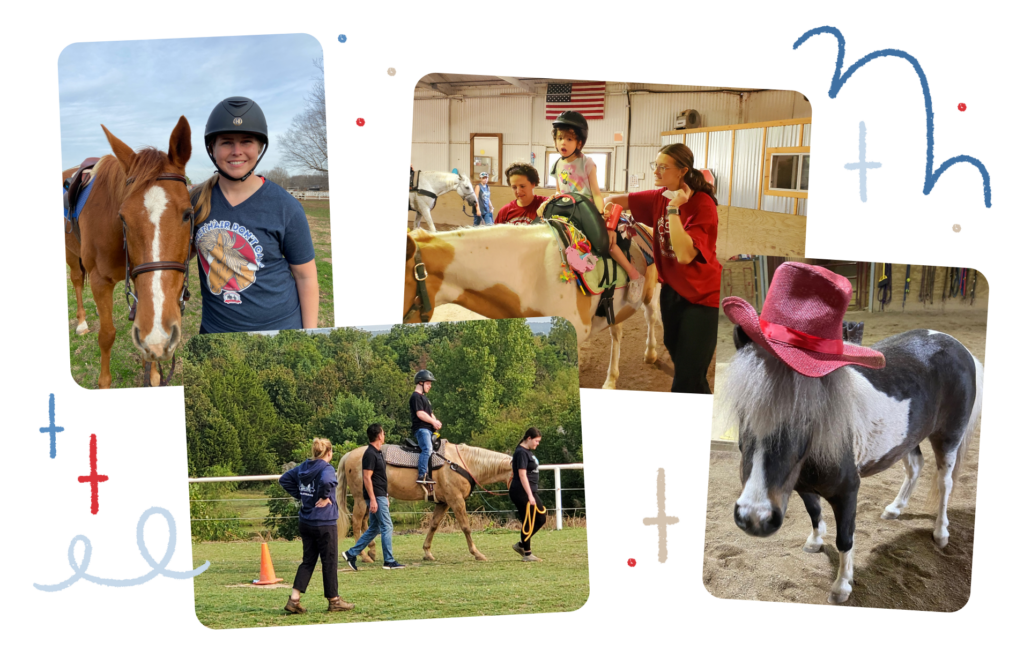 Therapeutic riding uses equine oriented activities for the purpose of contributing positively to the cognitive, physical, emotional and social well being of individuals with varying types and degrees of special needs through adaptive riding and therapeutic riding. Equine activities are used to achieve goals, with the horse being a strong motivator for accomplishing these goals. Emphasis is on a positive, enjoyable, and relaxing experience that provides additional therapeutic benefits in the areas of socialization, posture, strength, mobility, and an overall improved quality of life."
At the time of writing this, American Therapeutic Riding Center has raised around $300 for their center and the care of their horses.