Nicholas Haskins (he/him) is a dedicated content creator on a mission to #CrushCancer. Each year, he spearheads Livestream for the Cure – an epic multi-day streaming charity "telethon" that unites content creators and podcasters from across the globe. Together, they showcase their talents, take on exciting challenges, and get involved in all sorts of wacky shenanigans, all in the name of raising funds for cancer research.
To help boost awareness and support for this annual event, Nicholas launches a merch collection on Bonfire each year. 100% of proceeds go directly to the Cancer Research Institute – an organization that's committed to advancing the field of cancer research and saving lives through the development of powerful immunotherapies that target all types of cancers.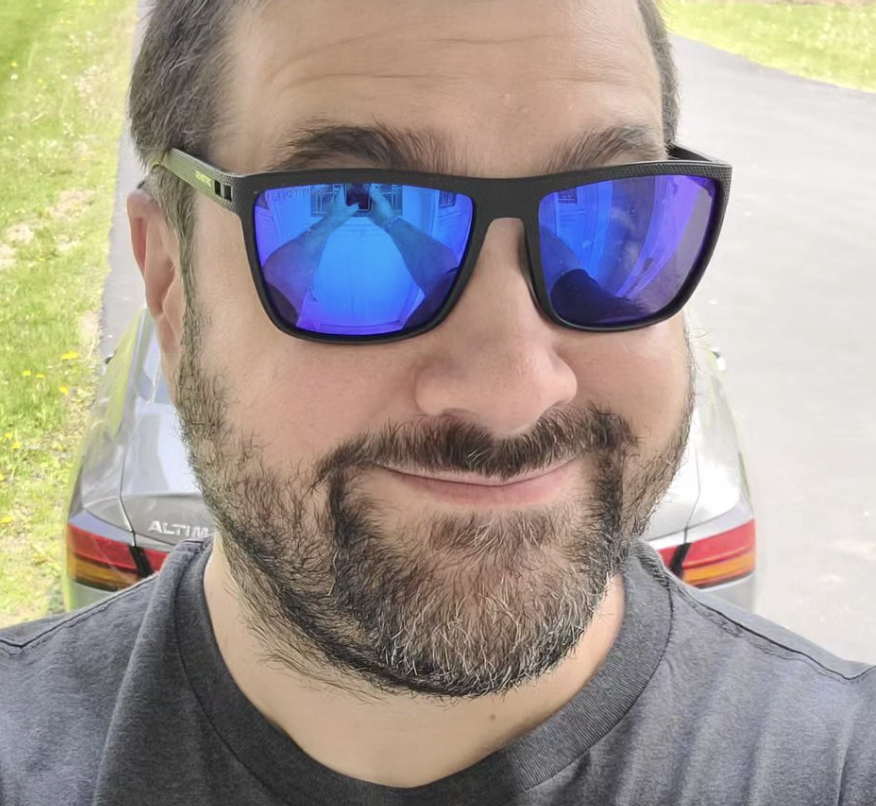 Here is Nicholas' story, written in his own words.
"I'm a podcaster, content creator by night, and a cubicle worker by day. I'm the host of Nikoli's Kitchen, a podcast about scratch-made food and positive energy. I also love to write. I've been podcasting since 2015 but creating content sporadically for many more years before that. I am also the organizer and host of Livestream for the Cure.
Every year, content creators from around the world join the Livestream for the Cure, which is a streaming "telethon" to raise money for the Cancer Research Institute. Our goal is the same as theirs – a world immune to cancer.
The event started in 2017. I was the co-host of the Epic Film Guys at the time, and I wanted to use our platform – however small it might have been – to try to do some good in the world. So I set about creating a charity event, and immediately I chose fighting cancer as our goal for fundraising. I lost a good friend of mine who was only 23 to a rare form of cancer, and I've supported numerous cancer charities over the years as a result. This was my chance to do something directly.
I looked for a good charity for us to raise money for and found the Cancer Research Institute, and reading about and studying immunotherapy really led me to believe it is the future of fighting cancer. They are very highly rated as well, so that sealed the deal.
Next year, Livestream for the Cure will cross the $100,000 mark, which is unbelievable to me still. To date, we've raised about $90,000. The only hope I have for it is to keep going, year after year. I get to meet new people in the podcasting and content creation space, I get to reconnect with friends I've already made in the space year after year, and it brings people together for positivity and a good cause. I can't ever ask for it to be more than that.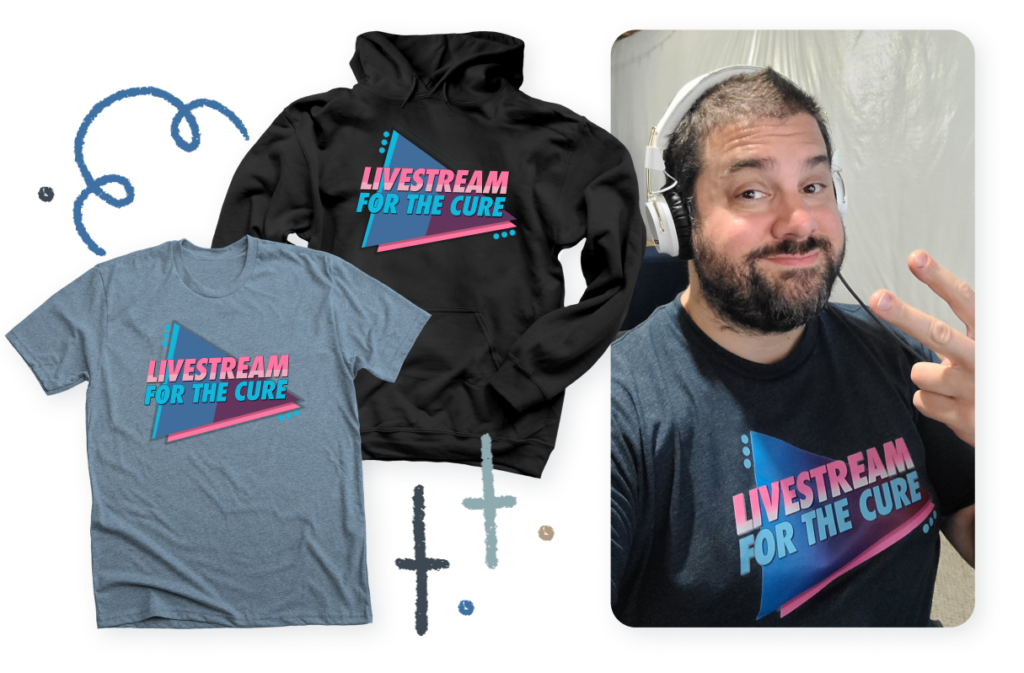 "Every year, Justin (he/him) of Epic Film Guys creates beautiful original artwork for the event, and it's a great way to promote the event and to help support the cause as well. It has a retro 80s sort of charm to it, which is something that is hugely inspirational to Justin. When I first saw it, I thought it had a "rocker" vibe.
Bonfire has been amazing. The shirts are wonderful quality, and the option to run things in batches or have them on demand fit us well in terms of organizing sales for the event. Having a dedicated merch store made it so much easier as well. Donating the funds directly to CRI makes my life easier as well, as does having the products shipped directly to customers.
Best of all, we offered a one-of-a-kind shirt during the event only that really helped fuel our sales. Thank you Bonfire for finally being everything we need and more!"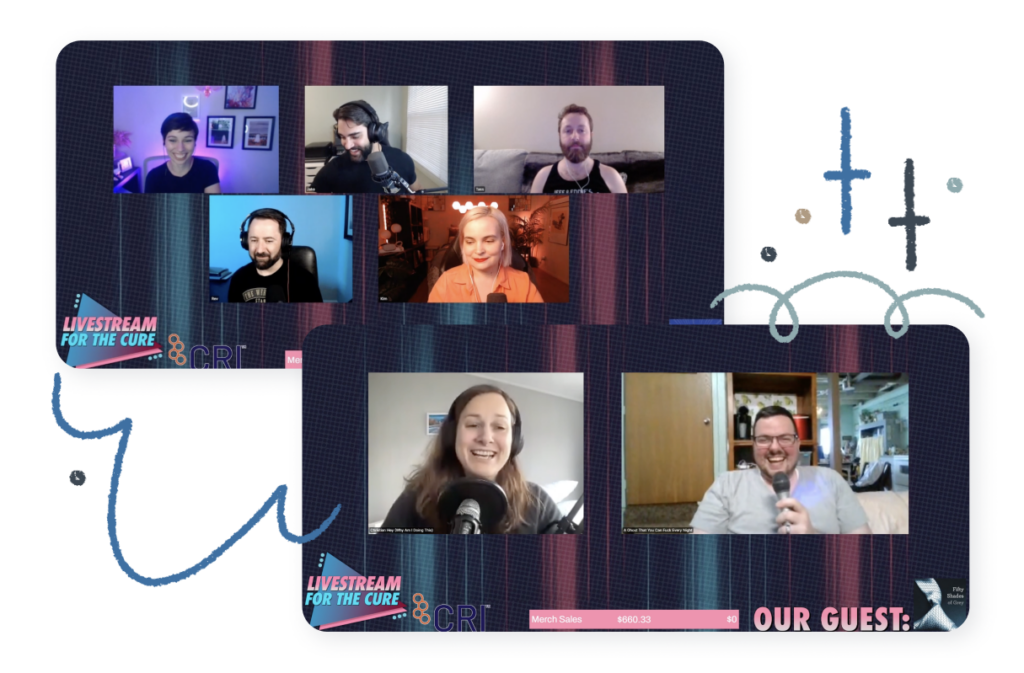 "As you can imagine, scheduling people all over the world to come on the air can be quite challenging. We've also got to check with them ahead of time to make sure their settings work correctly so the on-the-air portion goes smoothly! This is all handled by Dan (he/him), our executive producer of the event. I've been friends with Dan since college, and after the first year of the event, he volunteered himself to help with the production of the event behind the scenes to make sure it went smoothly. This was probably our smoothest year to date. In spite of whatever difficulties we have getting people on the air, though, it is wonderful fun from beginning to end, both in-studio and on the air. It is truly the great joy of my life.
Every dollar we raise to fight against cancer is the only win I'll ever need. We missed our goal this year, but we've hit our goals the majority of the years the event has been running. Even though we missed it, I'm still extremely satisfied with how everything went. We worked really hard to put on the event and still raised a ton of money. That's over 19,000 wins just this year alone!"
"Join us for the Livestream for the Cure every May and help us fight for a world immune to cancer. A lot of really talented people put together wonderful content for free to raise money for this wonderful cause. Please help us spread the word.
Thank you to Gerald (he/him) of Two Peas for being my backup on the air, and to Drew (he/him) of Reel Feels for being such an amazing supporter and contributor to the event. And to all of the amazing creators who have made Livestream for the Cure what it is. Really, without them, we'd have raised nothing close to the amount we've got now. I owe everything to their hard work and dedication to putting on a fun, engaging hour of content."
---
Learn more about Livestream for the Cure by purchasing merch from their store, visiting their website, or following them on Facebook, Instagram, Twitter, YouTube, and Twitch.
Ready to raise funds for your cause with custom merch?
Launch a free apparel fundraiser on Bonfire – it's 100% risk-free, easy to set up, and there's no inventory required.
Written by: Hayden Ireland / Content Specialist
Illustrated by: Madison Summers / Lead Marketing Designer