Evelyn Burttram, AKA The Pink Sheep, is the creator and maker behind Pink Sheep Design, a brand for crochet enthusiasts (and creatives of all kinds) that focuses on promoting happiness, creative empowerment, and community.
They are known for their beginner-friendly, super-bulky patterns, their 3D printed & ergonomic jumbo crochet hooks and tools, and their live virtual workshops on topics like crochet pattern writing, social media management, and more. What started off as a passion-fueled small business, has continued to expand and become a whole new way of life for Evelyn.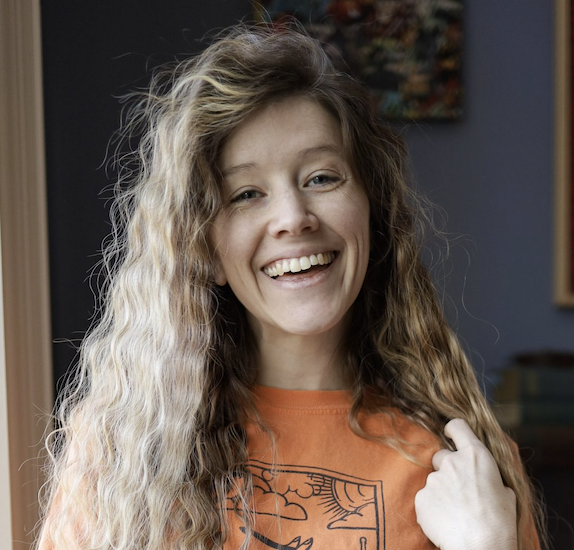 Here is Evelyn's story, written in her own words.
"I started my business in 2015 making crocheted and knitted items for friends and family. This quickly grew to me selling items at local craft shows throughout the year as well as in my online shop. In 2017 I found out I had arthritis forming in my neck and it was hindering my ability to crochet enough products to bring to my shows and I knew my business would need to change. It was not until the pandemic hit that this change really began to take effect.
I moved my focus from selling finished crochet products to designing crochet patterns for other people to purchase and make for themselves. I realized that the crochet and fiber art community is super supportive and truly enjoy purchasing merchandise and accessories from other small businesses and makers. I knew that I had an opportunity here to create some really unique items for this niche audience!
Just before the world went on lockdown my husband bought an iPad and I tried Procreate for the first time. I ended up creating my first (and to this date my most popular) design for crocheters–my hooker tarot card inspired design. I started selling the design on stickers but the demand for other items with this design grew and after trying multiple companies to create and sell apparel with my designs, I was ready to give up… that's when I happened to stumble across Bonfire.
This company TOTALLY changed the game for me as a small business and maker. Everything was so streamlined and simple and kept me from dealing with any of the stress that comes along with inventory, shipping, quality control and customer service. Bonfire handles it all and even when mistakes were made, I was able to send my customers to Bonfire and they got the help they needed to make it right. I have been able to create a new steady stream of income for my small business, all thanks to Bonfire! A few years ago I truly worried that my business would be no more since I couldn't crochet like I used to, but it turns out, it couldn't have been a better opportunity for me to change up the game, try something new and take my brand on a whole new journey!!!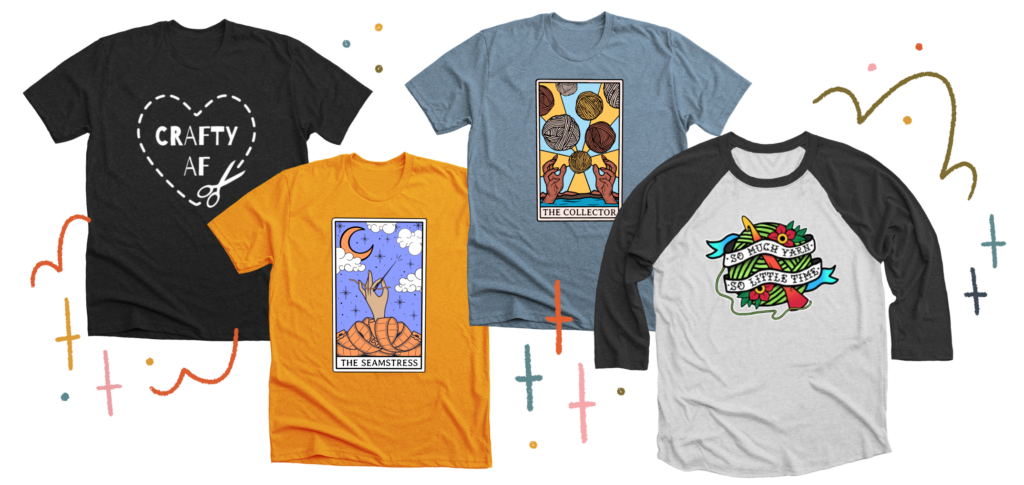 My designs are all meant to help crocheters, knitters and other fiber artists show pride in their craft in fun and unique ways. Many of the crochet and knitting apparel designs out there can feel a little dated and cliche, I wanted to change this and create some more modern, funky and interesting designs for this community!
I have LOVED working with Bonfire and I believe this company has a chance to do some really BIG things for so many small businesses, creative entrepreneurs, makers and artists!!!"
---
Be sure to follow Pink Sheep Design on Instagram, subscribe to their YouTube channel, and check out their website.